Cadillac ATS-V / ATSV Forum
​
Welcome to ATS-V.ORG! The premier Cadillac ATS-V forum for owners and enthusiasts. We aim to be a friendly, educational community dedicated to everything about the 2016+ Cadillac ATS-V. To take full advantage of the site, we ask that you please
Register - It's quick and FREE!
You can then take full advantage of some of our most popular features on the site which are linked below.
​
So you want to beat the hell out of an ATS-V for a couple of years, but you don't necessarily invest the full $61,000+ over the next 72 months of your life? I too have commitment issues. In an effort to get their new Baby-V into the garages of more folks, Cadillac are offering a hell of a lease offer right now.
You can drive (read: beat the hell out of) a car that gets from 0-60 in less time than it takes you to notice that your shoe is untied for several hundred dollars less than owning it outright.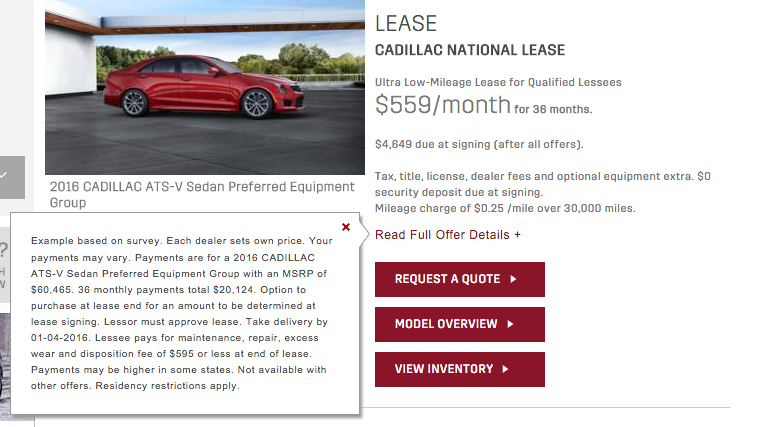 ​
For "Well Qualified Buyers" in that snooty voice that they always say that in, you can get into the ATS-V for just $559 a month on a 3 years lease. The catch is that you only get 30K miles a year and beyond that you are in for a quarter a mile. Luckily, you will only be running this thing from stop light to stop light as fast as you can, so it will take you a while to get to 30K miles. You will need to come up with almost $5K before they let you drive off the lot, but that is to be expected I am sure. Zero dollars due at signing is reserved for those Kias with a set of hamsters under the hood for propulsion. I am serious, look at their commercials, if that isn't truth in advertising, I don't know what is.
Anyway, go out there and lease your ATS-V and let us know what a properly appointed ATS-V will run you a month.
Sauce:
Cadillac | ATS-V Sedan Build Your Own
​
Cadillac today announced the exclusive Crystal White Frost Edition for all three of its new high-performance V-Series models – the 2016 Cadillac ATS-V Coupe and Sedan, and the 2016 Cadillac CTS-V Sedan.
These new special edition models celebrate the ongoing launch of the first-ever Cadillac ATS-V and the third-generation Cadillac CTS-V super-sedan. They feature a special production run of low-gloss Crystal White Frost exterior paint, which first appeared for the world premiere announcements of the new V-Series models, receiving positive consumer reaction. The edition includes select V-Series wheels and Carbon Fiber and Luxury packages that are options on regular V-Series models.
The 2016 Cadillac ATS-V Crystal White Frost Edition sedans start at $71,460 and coupes at $73,660. The 2016 Cadillac CTS-V Crystal White Frost Edition sedans start at $94,990, including destination freight charges but excludes tax, title, license and dealer fees. In total, 99 Crystal White Frost Edition vehicles will be allocated for retail – 29 CTS-V sedans, 39 ATS-V coupes and 31 ATS-V sedans.
ATS-V Crystal White Frost Edition
All 2016 Cadillac ATS-V Crystal White Frost Edition sedans and coupes include the following in addition to the ATS-V standard features:
- Cadillac Crystal White Frost matte-finish exterior paint
- 18" V-Series wheels – polished forged-aluminum
- Carbon Fiber Package:
-- Carbon fiber front splitter
-- Carbon fiber hood vent
-- Carbon fiber rear diffuser
-- Composite black rocker extensions
-- Composite body-color extra-aero rear spoiler
- Luxury Package:
-- Enhanced Cadillac CUE with access to Apple CarPlay and Navigation
-- Sport alloy pedals
-- Universal Home Remote
-- High intensity discharge (HID) headlamps with Adaptive Forward Lighting and LED vertical light signatures
-- Split-folding rear seats (ATS-V Sedan...
​

Car and Driver came down to the land of milk, honey, hipsters, and money, Austin, TX, to test the all-new V variant of the ATS. They spent some time carving up the asphalt that makes up the fabled "Three Sisters" in the hill country.

They had a lot of good things to say about the new car, so without further adieu, I present you with the review:
Finally armed with the power to match its chassis, Cadillac's coupe shines.

The eccentric tenor of Austin, Texas, goes so far beyond the stereotypes that it could pass for parody. In the city's South Congress neighborhood, for example, you get your kale juice, fried chicken, and breakfast tacos not from a food truck, but from food Airstreams and food shipping containers. The local thrift shop shares a wall with American Apparel, and everybody pretends not to notice that the hipster counterculture is funded by Range Rover drivers quaffing $20 cocktails.

The off-kilter atmosphere is so pervasive here that it's normal. What is truly strange in Austin is brash, unashamed indulgence and capitalism without the pretense of keeping Austin weird. Like a $63,660 sports coupe from a brand so tragically unhip that it's relocating people to New York City with the hope that speeding taxis will splash them with trendiness and relevance.

If you place more stock in what's good than what's trending, though, you need to know about the 2016 Cadillac ATS-V, a 464-hp BMW challenger that finally captures what Cadillac has chased for 13 years with varying success. With the ATS-V coupe and sedan, Cadillac has mastered the complete package of performance, style, and driving bliss. To arrive at that conclusion, we pointed the ATS-V coupe into the heart of Texas Hill Country, 180 miles southwest of the state capital by way of Sabinal, population 1695, where we missed the annual Wild Hog Festival and Craft Fair by just one day. The billboard showing a grown man midflight as he's bucked from...
​
What's better than power? More power, obviously. And in a nice little surprise, it turns out the 2016 Cadillac ATS-V has even more power than General Motors initially thought it would. It's faster, too.
At first the ATS-V's 3.6-liter twin-turbo V6 was rated at 455 horsepower and 445 pound-feet of torque. But Cadillac announced today that the engine is SAE-certified at 464 horsepower and 444 pound-feet of torque.
Now for the speed part: its 0-60 mph time was originally set at 3.9 seconds, but now it's 3.8 seconds. Top speed has jumped from 185 mph to 189 mph. Incremental increases, sure, but more is always better.
It also puts the ATS-V coupe and sedan pretty far over its competitors, the BMW M3 and M4, which are rated at 425 horsepower. Still, the Cadillac trails behind the new 2016 Mercedes-AMG C63, which puts out 469 horsepower and 503 horsepower in S trim. Two extra cylinders and more displacement will do that, you know.
Still, the smallest and lightest V ever looks like it will be a first-rate sport sedan and coupe. We get to drive it next month at Circuit of the Americas. We can't wait. (And by "we" in those sentences, I mean "I." But everyone's excited about it.)
Sauce:
Turns Out The Cadillac ATS-V Is More Powerful Than Expected At 464 HP